Navigating Public Sector contract and tender opportunities may at first seem daunting and confusing but with the right tools and knowledge you can become a government supplier. We have been providing expertise in this area for 10 years and can help you win business....have a read below
Engaging with government

Winning government contracts is not just about filling out forms and ticking boxes. In fact, developing relationships and raising brand awareness with key decision makers are just as important when competing for government business as they are in the private sector.
Navigating the public sector to identify and engage with the organizations and stakeholders that are relevant to your business can be a challenging and time-consuming task.
We provide you with the tools to help you build relationships in government and develop your public sector business
We provide free to government hard copy publications, databases and online directories to the Australian and New Zealand public sector. They contain staff listings and management hierarchies of government employees that engage with both each other and the private sector. The aim of our tools are to provide a "one stop resource" allowing:
Public Sector staff:

Communicate across departments to share best practice on projects and purchases and to collaborate on procurement
Engage with businesses in order to procure goods and services

Private Sector:

Target government buyers, procurement staff and decision makers
Build relationships and opportunities with the government
Each suite of tools are designed to be utilised on a daily basis in government procurement. They contain adverts by companies that deal relevant products and services into the Health,  Educational Institutions, Federal, State and Local Government Entities and represent an:
excellent advertising platform for suppliers who want to develop their business in the markets represented
information on decision makers that can put business your way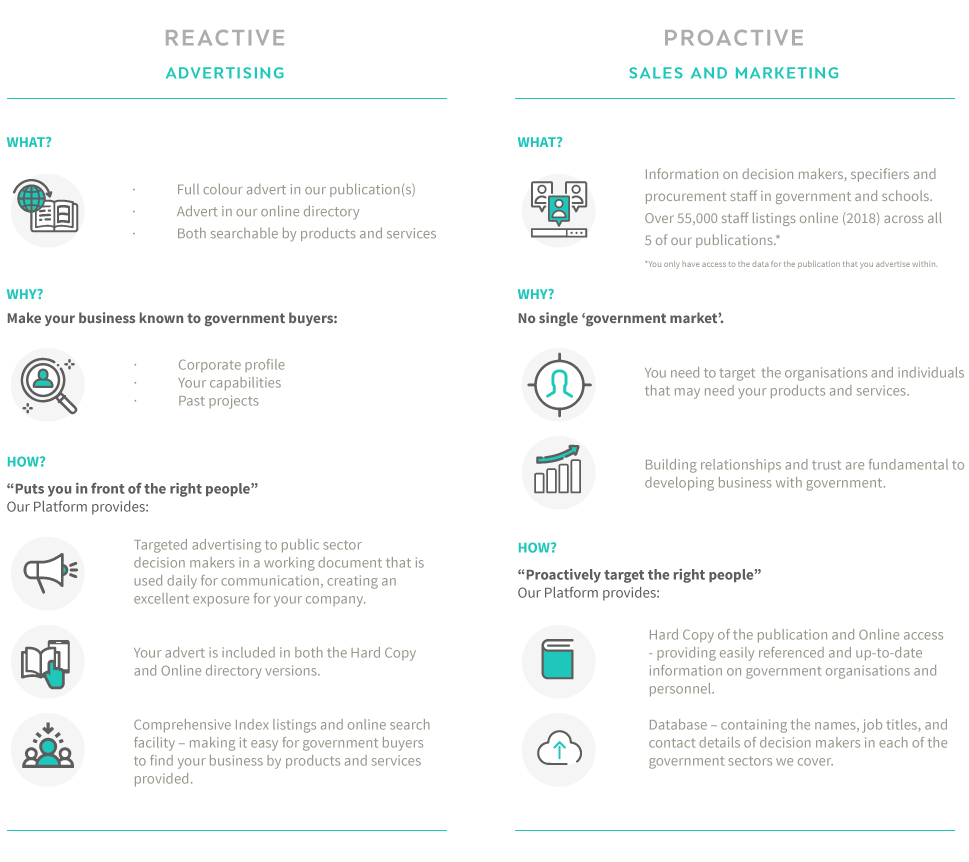 The details
Hard Copy publications:

A5 full colour - either full or half page advert
Approx. 300-500 pages (variable depending on which publication)
Product/services index (e.g. "Signs", "Flooring", "Translation Services", "IT Peripherals")
Listings on  Government staff members (see "dataset" below)

Online Directory

Full colour advert
Your company name, tel, address and location
Searchable by product/services listings (e.g. "Signs", "Flooring", "Translation Services", "IT Peripherals")
Password protected
Listings on  Government staff members (see "dataset" below)

Dataset

In total we have approx. 55,000 staff listings (2018) across all our publications. NB you only get the information for the publication that you advertise in.
Data includes government department, agency, institution name, address, job title, name, main switchboard and main email (*not direct email)
*We do not provide direct email addresses. We follow advice from the public sector and their preferred approach to procurement. They highly encourage proactive approaches from the private sector and the most effective way to build those relationships tends to be done through telephone, physical meetings and initiatives like meet the buyer/supplier, not unsolicited emails.